"Torture Devices" CD and t-shirt: $22.00 USD
For a limited time, get "Torture Devices" and a Nightlite Mary tshirt together for a special price. The album is also available for purchase on iTunes, Amazon, Google Play, Tidal, and CD Baby. Also streaming on Spotify! Streaming on ReverbNation, and on all other major services coming soon.
Tshirt only: $17.00 USD
Dark T-shirt, 100% preshrunk cotton, Crew Neckline, Standard Fit, Machine Wash Cold.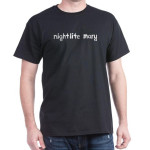 "Torture Devices" CD only: $12.00 USD
"Torture Devices" was recorded live in studio, with the same raw energy that goes into every on-stage Nightlite Mary performance.
Nightlite Mary Super Pack: $61.00 USD
Get an official Nightlite Mary tshirt, plus all five of our studio releases, for just $61!